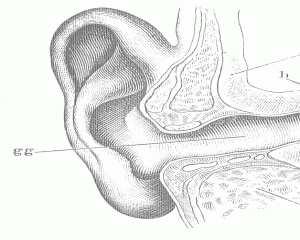 Welcome to the first step in your audio portfolio! How about giving your 205 peers a sense of what sounds are around you on a routine basis?
Aims of the Exercise
For you to:
Unpack how sounds influence your everyday life and help form your cultural "soundscapes."
Use audio as evidence in an argument about certain aspects of your life.
Consider how you represent yourself (e.g., what you tell or don't tell your audience) through sound.
Gain some experience in recording and editing audio.
Constraints for Audio
Eight to fifteen recordings only
Between two and three minutes long
One text title (for your blog entry), but no other text
No narration
Editing: only duration (no overlap, no effects)
Due: Thursday, October 14th
Steps
(1) Use a theme to compose a playlist of eight to fifteen sounds.  Using a word processor or the like, you should compose a playlist (or "audiography") of sounds that often occur around you.  (Just the playlist, not the actual sounds.)  Be creative here.  What sounds (e.g., commercials, voices, and noises) do you hear regularly?
Your list should consist of eight to fifteen sounds.  There should also be a theme for how you order the sounds—what comes when and why.  For example, consider something like, "Sounds I Hear Every Morning," "Ten Sounds I Don't Like, But I Hear Often," or "Sounds that Remind Me of My Family."
(2) Test Record, Import, and Export. Next, try a test run of audio from start to finish. That means recording a sound using whatever audio technology you decided to use this quarter, transferring it to your computer (if applicable), importing it into Audacity, and exporting it as an MP3. Â Note: Audacity will not import AC3, AMR(NB), M4A, or WMA. It will only import WAV, MP3, OGG, AU and AIFF. If need be, then you can use a program like iTunes to change the format. Â (In iTunes, under "preferences," you can change the import settings to "MP3" through the "when you insert CD" option. For PCs, "preferences" is under "edit," and for Macs, it's under "iTunes".)
If you are having difficulty with a test, then email me.
(3) Record All of the Sounds on Your Playlist. As you record, keep in mind where you are recording. Is the room noisy? Are you recording in such a way that accurately depicts an everyday situation for you? Or are you altering the situation for the purposes of recording?
If possible, then record your audio with headphones on. Â That way, you can hear what you are recording.
Most importantly, all sounds should fall within the realm of fair use, with permission. For example, if you are recording someone's voice, then first ask permission to record them. Â During class, we will further discuss fair use and permissions and how they affect the work you do in this course. Even though our audio blog is passcode-protected, we still need to abide by copyright law and human subjects policies.
(4) Import All of the Recordings into Audacity and Edit. I suggest dedicating one named track to each of your eight to fifteen recordings. Also, for this assignment, the only editing permitted is cutting seconds from a recording. Â (For instance, you might cut the permissions you received from any volunteers.) Â You should NOT add any effects or narration to the audio, and you should NOT overlap the tracks. Comparable to most albums you hear, your audiography should be eight to fifteen contiguous recordings.
In other words, let the recordings from your audiography and its theme (see #1 above) do the work, not the editing or a voice-over narration.
(5) Save Your Project, Export as an MP3, and Upload the MP3 to the Class Audio Blog. No worries, you'll learn that last step during class on Tuesday, October 12th. However, I recommend that you complete this exercise prior to Tuesday's class.
Outcomes
(1) Your audiography is an experiment in sound, style, and genre. It should be creative and aware of its audience (i.e., your 205 peers). The title of your audio blog entry should reflect the theme of your audiography. When listening to your audiography, your audience should be able to follow your implicit theme throughout your eight to fifteen recordings.
(2) Without narration or much editing, your audiography should persuasively use sound in order to give audiences a sense of some aspects of your everyday life.
Schedule
Your audiography is due on our audio blog by the start of class on Thursday, October 14th. The blog entry should include a title (i.e., your audiography theme) and your playable Mp3. Â That's it. Please categorize it under "audiography." I will not be responding directly to this entry. However, we will listen to some of them during class on Thursday, October 14th. Â Also, for the next audio entry, "Re: Audiography," your peers will respond to your audiography, edit it, and incorporate it into their own work. I will respond directly to all entries for "Re: Audiography."